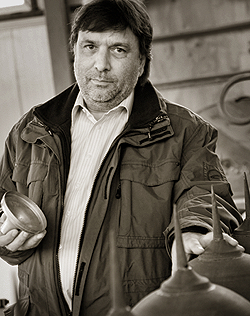 Meet Our Artisans: Nikolay Kenov
Metalworker/Entrepreneur
Bulgaria
A true entrepreneur, Nikolay Kenov saw opportunity in the fall of the iron curtain. He began buying used cars in Belgium, repairing them himself, and selling them in Eastern Europe.
Along the way, he simultaneously fell in love with metalworking and with Flanders – with the mix of German, English and even Roman influences, the rich tradition of textile manufacturing and the warmth and authenticity of the people.
Now, as owner of a small workshop in Bulgaria, he strives to capture the flavor of Flanders in metal, wood and glass. Inspired by the natural hues and textures of Belgian textiles and the patina and pathos of industrial antiques, he designs objects that lend a sense of history to the home and garden.
Each handcrafted planter, lantern, ornament and hurricane is beautifully imperfect, utterly unique, just as it would have been a century ago. Nikolay and his artisans have developed proprietary finishes that give these objects the perfectly aged character of estate pieces – character that will only deepen with time in your garden.