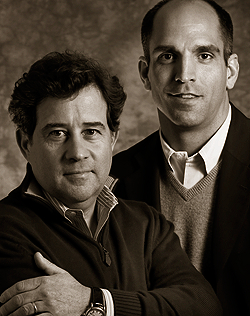 Meet Our Artisans: Glenn Appel and Peter Cilio
Innovators
Pennsylvania
The artisans of Campania® International are historians and innovators, charged with capturing the beauty of the past and ensuring that it will endure into the future.
Guided by CEO Glenn Appel and Creative Director Peter Cilio (whose father, Peter Sr., also held the post), a team of sculptors, mold-makers and expert finishers creates cast stone garden accessories with the grace and gravitas of estate antiques.
But beyond their aesthetic charms, these urns and fountains, ornaments and planters are also extraordinary feats of engineering, designed to spend season after season in the garden, resisting frost and acquiring character over time.
And that makes them anything but "garden variety."