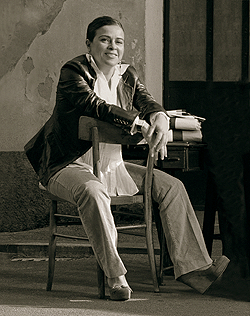 Meet Our Artisans: Chiara Mascioni
Atelier
Italy
Groundbreaking technologies, a discriminating eye for beauty, innovative manufacturing, the creativity and resourcefulness of the traditional craftsman, and an unwavering commitment to quality and service: These traits have made Italy's Mascioni one of the world's leading textile makers – and one of Restoration Hardware's premier vendors of printed bedding.
Driven by a passion for fine fabrics and finishing, brothers Bernardo and Umberto Mascioni founded their company in the late 1950s. Sisters Giuditta and Rosa – who shared the family obsession with quality and innovation – soon joined them. After mastering the art and craft of producing silk scarves and cotton handkerchiefs, the siblings branched into textile printing, developing sophisticated new technologies that allowed ever-more-refined techniques. Their superb work caught the eye of high-fashion houses the world over, and demand for Mascioni prints grew. Today, the second generation, Chiara, continues Mascioni's artisan tradition of attention to detail, masterful skill and creativity in both design and technology.
Innovation, Quality and Care for the Environment
Mascioni, headquartered in the northern Italian town of Cuvio, is a 700,000-square-foot state-of-the-art factory for fabric printing, dyeing and finishing. The family and the company cherish the local environment, and they use advanced smoke-filtering and water-purification technologies to safeguard northern Italy's unique beauty.
The village of Cuvio is the source of Restoration Hardware's signature printed bedding, including our Italian Cypress Paisley and Italian Antiqued Floral. Cypress Paisley features an elaborate design of intricate teardrops with floral medallions and delicate leaves and tracery, impeccably printed on 300-thread-count cotton sateen. Inspired by a vintage design, Antiqued Floral pairs a mélange of flowers in muted hues on pure cotton that's washed for a buttery-soft finish.