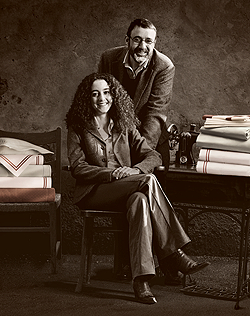 Meet Our Artisans: Carlo Bertelli and Giulia Cavallaro
Ateliers
Italy
Carlo Bertelli and Giulia Cavallaro represent two generations of the founding families of Tessitura Toscana Telerie, a renowned Italian linen-maker based in Florence. The company was created in 1947, just after the end of World War II.
Two young friends, Vinicio Tarli and Fano Puliti - one an accountant and economist, the other an expert in home textiles - shook hands and formed a partnership in 1947 to create fine Italian linens, with only a few lira in their pockets. They bought old looms and restored them, assembled them in a small hanger, and equipped them with innovative technologies to weave dobby and jacquard fabrics for fine table linens. After achieving success in that arena, the company expanded production into bed linens in 1958, receiving accolades for the quality and beauty of their products.
From its inception, Tessitura Toscana Telerie studied the history of Italian linens to inform today's designs, and continues to devise innovative ways to reproduce old world linens using state-of-the-art technologies. The company's unique blend of respect for tradition, artisanal skill, new world technology and a passion for linen-making differentiates it from its competitors, allowing it to continue in the grand Italian tradition of manufacturing the world's finest bedding. Carlo and Giulia represent that ongoing commitment through their work in manufacturing and design.
The World's Finest Bedding is Made in Italy
Tessitura Toscana Telerie carefully selects only the finest Egyptian cotton fibers and employs state-of-the-art spinning techniques. In addition, they rely on a team of experts who have been with the company for decades to ensure quality control at every stage of the process. In practicing an alchemy all their own, they transform the finest yarns into fabrics of superb finish and feel that are luxuriously soft to the touch.
The result of their labors includes Restoration Hardware's signature bedding programs: Italian Hotel Satin Stitch bedding, a luxurious everyday classic and the choice of Italian ateliers for their own homes; Italian 464 Percale, long-staple Egyptian cotton woven to a 464-thread-count; and Italian 600 Sateen, long-staple Egyptian cotton woven to a smooth, ultra-soft and lustrous 600-thread-count finish.
Today, more than 60 years later, Tessitura Toscana Telerie remains committed to its founding principles, led by the descendants - Carlo and Giulia - of its founding families.