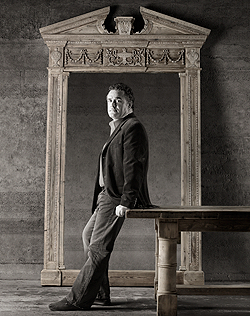 Meet Our Artisans: Timothy Oulton
Antique Dealer/Reproductionist
London
London antiques dealer and furniture reproductionist Timothy Oulton is driven by a passion for traditional handcraftsmanship. Born in Manchester and immersed in his father's antique business since childhood, he inherited Major Philip Oulton's eye for beauty and his intrinsic ability to see artistic value and perfection in a product's design.
Philip's passion for antique furniture led him to open Halo Antiques in 1976, dedicated to showcasing handcrafted furniture and accessories and selling them in the United Kingdom and abroad. In turn, his sons were inspired to develop a furniture collection that encompassed the skills and talents of true artisans. Tim and his brother, Charles, branched off on their own, and The Halo Group was born.
The Mayfair Steamer Trunk Collection
Working with his team of artisans, Tim created the iconic Mayfair Steamer Trunk Collection, a tribute to his family's antiques heritage. Drawing inspiration from the classic luggage of Louis Vuitton, he was determined to reproduce authentic trunks that would retain all the hallmarks of true handcraftsmanship, yet sell at an affordable price.
Tim's knowledge of ageless craftsmanship and his unmatched attention to detail reverberate in every piece. Vintage cigar leather undergoes seven stages of hand-finishing. Accents include 3,000 hand-hammered brass nailheads, leather-bound corner brackets, leather-wrapped handles and antiqued cast-metal hardware. Every stitch, every detail counts. It's perfection nurtured by patience, consummate skill, and labor - each trunk requires 72 hours to complete. No two trunks are exactly alike, making each trunk truly unique. Each step is necessary in the pursuit of a high aesthetic standard that prizes distinct individuality in every piece.
The Salvaged Wood Collection
In the 1990s, Halo was the first furniture company to build a business in reclaimed timbers. Restoration Hardware's Gun Barrel and Trestle salvaged wood dining tables are crafted of solid, 2-1/2"-thick unfinished timbers from a distillery in Great Britain. They bear all the hallmarks of ageless craftsmanship and old wood: nicks and imperfections that reveal the collection's provenance, nail marks, and hand selected, planed and sanded planks that bear a timeworn patina. Similarly, the oversized, neo-classically inspired Entablature Mirror is hand-carved of reclaimed timbers from a Scottish mill. The Salvaged Wood Collection is environmentally sustainable furniture in the most beautiful sense of the term, representing Tim Oulton's passion for inspired design and enduring quality.