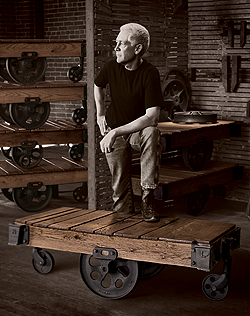 Meet Our Artisans: Michael Vermillion
Furniture Maker/Craftsman
San Francisco
Michael Vermillion's philosophy about furniture making is a simple one: Make products that are honest. Finely crafted. Timeless in their design. And all about quality. This master craftsman's oft-quoted mantra is "Substance is everything." He believes that a product should speak to the customer when they walk into a store. Its quality should be immediately obvious to the eye - the beauty of the wood, the well-crafted details, its structural integrity.
It was 35 years ago that Michael first started making furniture in his two-car garage in Northern California. What started out as a hobby for this UC-Davis biochemistry graduate turned into Michael's, a profitable enterprise designing and manufacturing furniture with integrity, built the craftsman way - bench-made, not assembly produced.
Over the past 20 years, Michael was responsible for designing and crafting two of Restoration Hardware's most successful furniture collections - Mission and Marston. The Mission collection was launched in 1989, and demand was so strong that it was a challenge to keep up with production. Given that success, he now had the luxury of only doing business with individuals and companies who shared his point of view. That led to an ongoing exclusive relationship with Restoration Hardware.
Vintage Furniture Factory Cart
And so, it was a natural progression when Restoration Hardware asked Michael's help when we were considering reproducing an antique furniture cart. When reviewing samples of these less-than-stellar reproductions, he suggested that instead we might be able to buy the original carts by the pallet load. He proceeded to procure vintage furniture factory carts from the early 1900s and began the task of painstakingly restoring each one - dismantling every component piece by piece, then putting them back together in perfect order. The North American solid white oak was cleaned and sealed, as were the original cast iron wheels, bolts and plates. For Michael, it was a labor of love from start to finish. And for Restoration Hardware, the carts are a celebration of our nation's industrial past and the workers who built this country. Each is a piece of our national history, and a true icon of design and function.
Featured Items From This Artisan