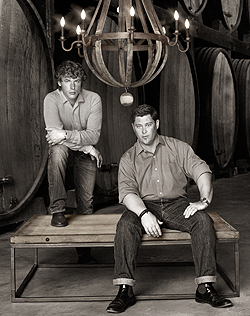 Meet Our Artisans: Mark Sage and Rudi Nijssen
Antique Collectors/Innovators
Belgium
Take a boy from Nebraska and a young man from the Netherlands. Fast forward 30 years to Belgium, and you have the unexpected story of BoBo Intriguing Objects, the company Mark Sage and Rudi Nijssen founded five years ago. Short for "bourgeois bohemian," their company's distinctive home and garden furnishings meld the traditional and the modern, the luxurious and the earthy.
Prior to meeting in Belgium, both were accomplished antique dealers in their own rights. Mark had perfected the art of scouring European destinations for one-of-a-kind items and had built a thriving business. Rudi was an established antique dealer in Antwerp and Brussels. Together, they decided to create a collaborative, innovative partnership in BoBo. Likening their relationship to that of a movie producer (Mark) and a director (Rudi), Mark typically comes up with a prototype antique that he wants to faithfully reproduce. Rudi's job is to carry out that vision.
Mark and Rudi share an obsession for creating reproductions handcrafted from reclaimed and rustic materials sourced from all over Europe. While the products are new, the materials are old. It is this juxtaposition of the old and the new that makes their work so compelling. Rudi shares, "We use old materials because they already have character, which is very difficult to reproduce." In so doing, they honor the timeless beauty of the rare finds they collect. On that same continuum, all of their items are made in Europe, handcrafted by master artisans. As Mark states, "I personally know everything about our products, from how the idea came up right down to the atelier in Europe that bent the metal or shaped the wood."
Their products share a rich pedigree and an organic, timeless beauty. Items such as our Brugge, Leo and Azobe Salvaged Wood Planters for the garden, crafted from azobe wood and Norwegian pine. Handcrafted by skilled artisans in Poland, the substantial 2-inch-thick timbers are styled after containers from 19th-century European orangeries. The distinctive Wine Barrel Chandelier, handcrafted from reclaimed French oak wine barrel staves and hoops, works beautifully indoors, while an outdoor version illuminates with candlelight. Or our Brickmaker's Table, originally a pallet used to transport bricks in a turn-of-the-century Belgian brickworks. They reinterpret the past for the present, producing handcrafted objects with the perfect combination of pedigree, proportion and patina.