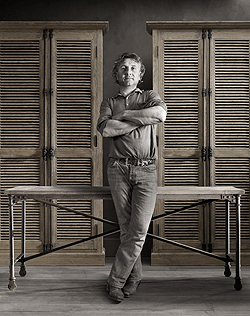 Meet Our Artisans: Luay Al-Rawi
Artisan/Entrepreneur
The Netherlands
The lure of the Far East has been omnipresent in Luay Al-Rawi's life. As a young man of 17, he began his career as an importer of Eastern novelties, trading in such items as tai chi shoes and arts & crafts. Through his travels to India and China, he expanded his scope and trained his eye on larger found objects, including unique sculptures and building materials from old Indian homes. Sensing a strong business opportunity, Luay began importing doors, windows and flooring to Holland. His burgeoning trade flourished as he developed relationships with interior decorators and designers.
An attraction to antique Chinese cabinets approximately 15 years ago was the trigger that led Luay to open his first factory in China. Drawn to the artisan craftsmanship of local Chinese farmers and villagers, he hired them to restore and repaint these one-of-a-kind items. In 1995 his company, Kenas, became the first wholly-owned foreign enterprise in China in the furniture business. Building from that early success, he evolved the business to create artisan-quality furniture reproductions based on European-inspired designs.
His is a design philosophy based on the beauty of the natural world in its unvarnished state. Environmentally conscious, he seeks to reuse and recycle old woods and metals. Though his furniture is newly crafted, it bears the patina of an old, well-loved antique. He achieves this through a masterful ability to create weathered finishes that look beautifully time worn.
"Elegant rusticity" characterizes each piece that Luay produces. Items like the Madeleine chair, the classic French café chair in a drifted weathered oak finish. Or the Flatiron desk and dining table, crafted from reclaimed elm doors and industrial steel. The Shutter bedroom and cabinet pieces, bearing a hand-applied weathered finish and classic angled louvers. And his Weathered Oak Custom Bath Collection, handcrafted of solid oak with a distressed finish and a choice of marble top. A true artist, Luay's furniture is truly art for the home.