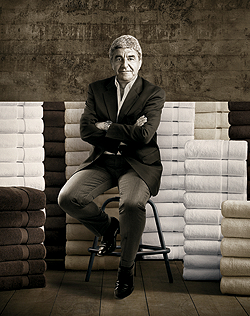 Meet Our Artisans: Haluk Eke
Textile entrepreneur
Turkey
Drawing inspiration from the ancient Turkish city of Hierapolis, the textile capital of antiquity, Haluk Eke has been driven since boyhood to produce the modern world's finest towels.
A native of Denizli, Turkey, a city not far from ancient Hierapolis, Mr. Eke grew up surrounded by the country's vast cotton fields, where the soil is rich and the climate temperate. Turkish cotton is famous for its long staple fibers, which lend strength, softness and absorbency to any product. While his family was in the business of manufacturing iron, he was drawn to its exact opposite ̵ the properties of cotton. Approximately 30 years ago, he entered the textile industry, where he began weaving towels in a small mill, but had very big goals: to turn the world's best long-staple cotton into the world's finest bath towel. Within a decade, he was the acknowledged expert in towel manufacturing, and his towels were considered the world's finest.
Not content to spin cotton the old fashioned way, he created a company built on a solid R&D foundation. Known as the leading innovator in the industry, he employs a team of expert engineers whose sole purpose is to produce the softest, most absorbent and durable towels from the finest raw materials.
The cotton towels we source from Mr. Eke are loomed to a hefty 802 grams per square meter, a measurement that reflects their unparalleled softness and durability. It's for that reason that they're our best-selling towel, year after year. Like the product of any true artisan, they're hand-crafted with keen attention to detail. Mr. Eke's attention to detail. They're simply the quintessential towel.