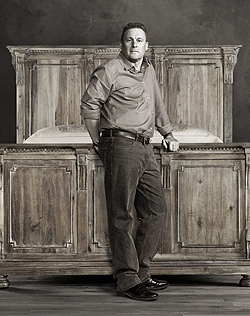 Meet Our Artisans: Geoffrey Hawkes
Antique Reproductionist/Entrepreneur
England
Geoff Hawkes has built a career out of being a successful entrepreneur. Born in southern England and based in London his adult life, he has parlayed his business management acumen and an appreciation of the fine arts into the world of home furnishings.
In the mid-1990s, Geoff invested in a prominent UK interior design business, based in London, where he showcased top-tier craftsmanship and fine furniture. His company's products were showcased in high-end London homes and boutique hotels influenced by the "Cool Britannia" look of the 90s.
In early 2000, his interest in European and English antiques led him to establish a manufacturing base in Vietnam. Like a musical "conductor" leading a symphony, Geoff brought master English artisans to Vietnam to help him realize his dream of manufacturing high quality European furniture reproductions. Today, he is the sole owner of Rochdale Spears, which specializes in crafting 17th and 18th century reproductions of English, French and Italian antiques. The company employs over 900 local employees and a team of dedicated English furniture specialists.
Specializing in unique accent pieces, Rochdale Spears develops European styles adapted for the modern market. The company is dedicated to sourcing the finest hardwoods and veneers from around the world. Bench-made construction techniques and multi-step, hand-applied finishes, including a final hand rub with English beeswax, make its antique reproduction pieces truly authentic. The company is noted for its hand-carving and distressing expertise.
Geoff's keen ability to read the tea leaves of the furniture business led him to move the company toward a more rustic aesthetic more than two years ago. That means a more ecologically conscious approach that uses reclaimed, plantation-grown woods and natural, non-chemical-based finishes. That approach dovetails with the aesthetic approach of Restoration Hardware, and is exemplified by The St. James Collection. Crafted with hand-carved fluted cornices, corbel supports and dentil details, it features an exclusive time-intensive finishing process that produces an authentically washed, aged look. Each piece is skillfully distressed to reflect its heritage under the watchful eye of one of Geoff's English craftsmen. Geoff has built a business dedicated to authenticity and fine craftsmanship, born of his passion for quality and design.