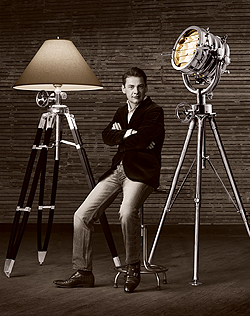 Meet Our Artisans: Theo Eichholtz
Collector/Entrepreneur
Amsterdam
Early in life, after finishing his formal education, Theo Eichholtz traveled the globe - throughout Europe, Asia and the United States - before embarking on a career. It was during these travels that he discovered his passion for the world of interior design and home furnishings. Theo the collector and entrepreneur was born.
Based in Amsterdam, Theo's company, Eichholtz B.V., sources fine home furnishings from around the world. A perfectionist about quality and meticulous about the details, Theo knows that producing the best requires patience and time. In his vernacular, there is no such thing as "a rush job." His eye is drawn to unique items that can be repurposed, items with a history and a story to tell. Items that are not only spectacular to look at but supremely functional.
Handcrafted Tripod Lamps
Restoration Hardware's Royal Marine Tripod Lamp and Royal Master Sealight Lamp are standouts from his marine-inspired collection, handcrafted in the old world sense of the term. The Royal Marine Tripod, a reproduction of a British surveyor's tripod, is crafted of hardwood with solid cast-aluminum accents and a machine-turned gear mechanism. The Royal Master Sealight, a reproduction of a 19th-century British marine light used to transmit Morse code, evokes both grand ocean liners and Old Hollywood. Crafted from solid cast aluminum, it also features a machine-turned gear mechanism. The lamps' metalwork is warm, rich and lustrous, the designs striking.
Importantly, nearly every component of these lamps is made by hand, as is the assembly, finishing and polishing. The factories Theo employs produce the designs the "old fashioned" way - by hand - a rarity in today's mechanized world. Consequently, while there is considerable labor and time involved in producing each lamp, the final product stands apart from any other reproductions. It is artisan quality, made by true artisans.